Trinity Buoy Wharf Drawing Prize 2019 - Award Winners Announced

Winners of the Trinity Buoy Wharf Drawing Prize 2019 were announced on Wednesday 25 September 2019 at the Awards Ceremony and Launch of the 2019 Exhibition at Trinity Buoy Wharf in London – with prizes of £27,000 in total value.
Chosen by selectors Chantal Joffe RA, Andrew Nairne OBE and Professor Dorothy Price, the First Prize of £8,000 was awarded to Alice Motte-Muñoz for her drawing, Reverie. Shelly Tregoning was awarded the Second Prize of £5,000 for her drawing, Distracted, Distracted. Philip Battley received the Student Award of £2,000 for his drawing, Stand. The Working Drawing Award of £2,000, chosen by Alan Baxter and Angela Paola Squassina, was awarded to Jeanette Barnes for her drawing Study for Cable Cars – New York. The Evelyn Willams Drawing Award of £10,000, chosen by David Alston, Liz Gilmore and Anita Taylor, was awarded to Penny McCarthy on the basis of her proposal and drawings included in the exhibition. 

Reverie, by London-based artist Alice Motte-Muñoz, aims to capture both the strength and vulnerability of an unnamed sitter whose reverie and gaze transfix the viewer. This graphite drawing, of a woman in profile, invites us "to ponder on the power of stillness and movement' as light and line move across the surface of the drawing and 'reflect the energy as well as the mystery of this woman".


Cornwall-based artist Shelly Tregoning's drawing, Distracted, Distracted, reflects her concerns that the "packaging and presentation of a carefully constructed hyper-identity is now a very real social expectation". In this drawing, made with oil on glassine, she depicts two girls standing together, distracted by their phones, seemingly unaware of their proximity and distance, as their physical and virtual worlds merge.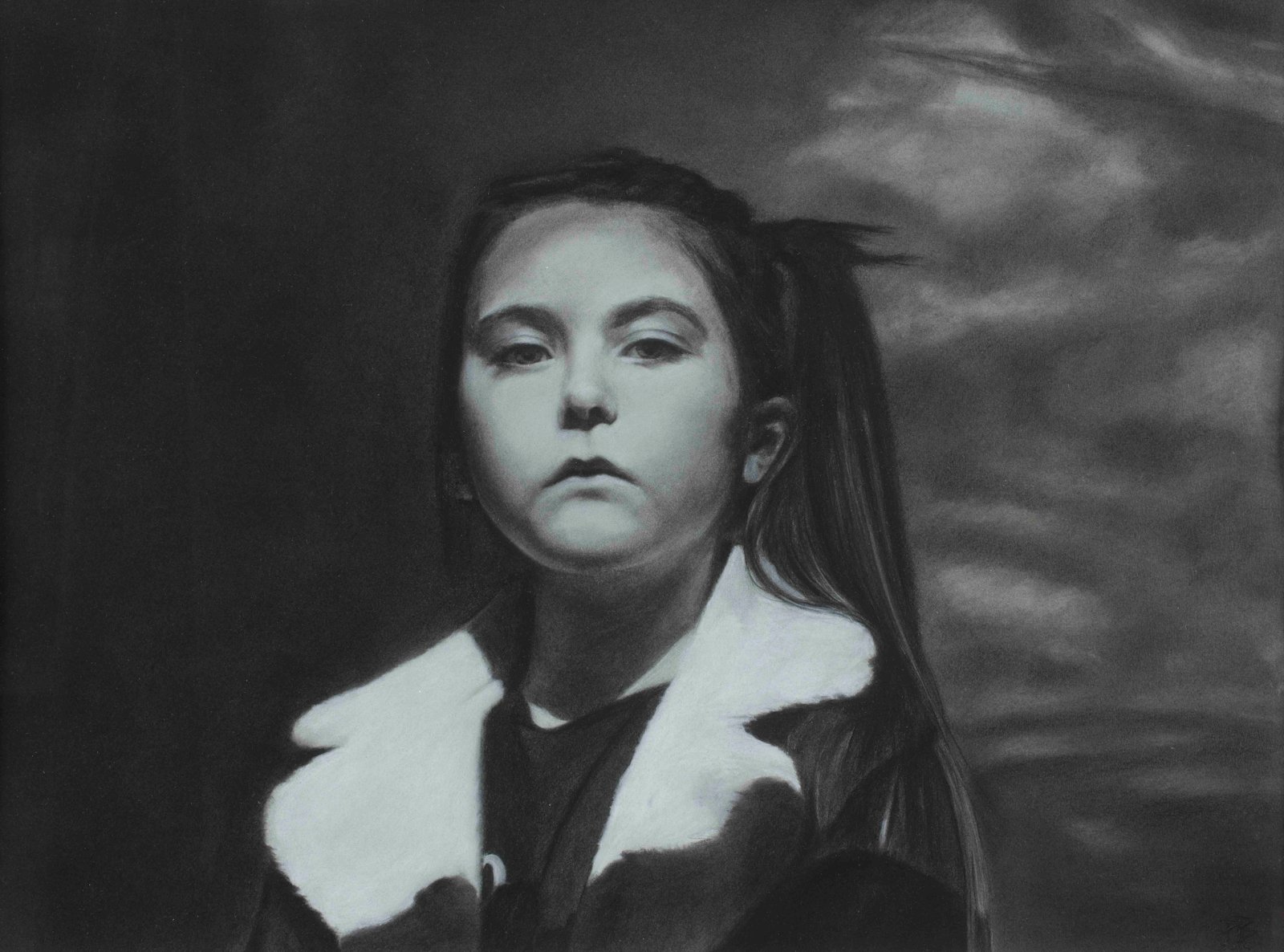 Stand, a drawing by Plymouth College of Art student, Philip Battley, depicts a young girl, Cherry. Made with charcoal and chalk on paper, he says "Cherry stands alone within the image, defiant and authoritative she commands the viewer's attention, but she is not alone. Cherry stands united and in solidarity with her generation in calling for change". Through this drawing, he aims to highlight the concern of young people with current issues, including "inequality, prejudice, discrimination, exploitation, population displacement, global pollution, climate change". 


London-based artist Jeanette Barnes sketches on location to inform her large-scale drawings of urban environments with the aim of creating "a history of events not a single moment in time". With this pen sketch, Study for Cable Cars – New York, the mark-making forms a visual equivalent to the experience of the noise and motion of the city, and a "feeling of urban intensity".
The Evelyn Williams Drawing Award 2019 is awarded to Penny McCarthy from Sheffield, who has two drawings included in the exhibition, DNA in Nature and Photo 51. Her graphite drawings typically evolve through a 'time-heavy and painstaking process of transcription, using archival material and images'. Her proposal for the award and solo exhibition at Hastings Contemporary in 2020/21 will explore events and archives specific to Hastings itself.
The Trinity Buoy Wharf Drawing Prize 2019 exhibition will be presented at The Salisbury Museum in Wiltshire from 12 October 2019 to 11 January 2020. Subsequently, it will return to Trinity Buoy Wharf in London where it will be available to view from 18 January to 2 February 2020. The exhibition will then tour to The Gallery at De Montfort University in Leicester from 21 February to 18 April 2020.
A fully illustrated 152pp publication is available, published by Drawing Projects UK.
All quotations above are taken from the statements made by the artists about their drawings from the publication. 
Press Enquiries, further information, and images, please contact Emma Walker at Parker Harris:
Tel: 020 3653 0896

Email: This email address is being protected from spambots. You need JavaScript enabled to view it.
Social Media:
Twitter: @TBWDrawingPrize / @ArtsTBW / #TBWDP19

Instagram @TrinityBuoyWharf / @DrawingProjectsUK / #TBWDP19 
Facebook:
@TrinityBuoyWharf / @DrawingProjects1 / #TBWDP19
Images (photographer: Colin Mills): 
1. Alice Motte-Muñoz, Reverie, 2019, Graphite and pencil on paper, 64 x 88cm 
2. Shelly Tregoning, Distracted, Distracted, 2019, Oil on Glassine, 60 x 49cm
3. Jeanette Barnes, Study for cable cars - New York, 2018, Pen, 53 x 73cm
4. Philip Battley, Stand, 2019, Charcoal and chalk, 68 x 86cm
5. Penny McCarthy, DNA in Nature, 2018, Pencil on Paper, 50 x 70cm